The idea of networking events is an important opportunity for professionals to connect with many people. Investing in certain networking events can be worth trying. Before attending, you can gather references to find networking events that are suitable for your needs and interests.
Networking events are available in various types according to their purpose and requirements. Some events are casual and well-organized, while others are structured around an academic sphere. You can choose events that fit your budget and interests. Here are some networking events you can consider:
Types of Worthwhile Networking Events to Explore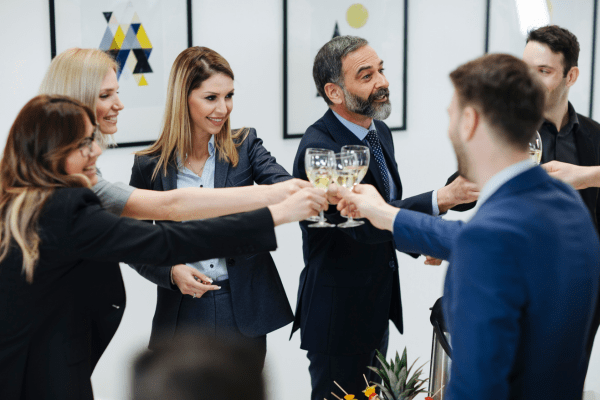 Networking events offer many special benefits that professionals and common people need.
Below are the types of networking events that you can choose:
Career Fairs
Career fairs are significant events for individuals starting their careers. Typically organized by colleges or universities to support their alumni, these events take place throughout the year after graduation.
They offer a valuable opportunity for students and graduates to connect with people while searching for suitable job opportunities.
Trade Shows
Trade shows are organized by industries and organizations to showcase products and services. Held at large expo centers, these events feature company booths where customers can interact. Trade shows provide excellent opportunities for businesses and clients to meet face-to-face and discuss products.
Community Service Groups
For those interested in volunteering, community service groups provide a platform to connect with like-minded individuals. Volunteers and donors come together at these events to discuss nonprofit organizations. Attending such events can enhance your networking experience and garner support for your career path in the subject.
Workshops
Workshops are particularly beneficial for students and graduates. They play a vital role in skill development and networking. Attending workshops allows you to listen to presentations on specific themes. In addition to knowledge transfer, workshops often incorporate interactive games and activities.
Roundtable Discussions
For individuals who enjoy debates and discussions, participating in roundtable discussions is a great idea. These events enable you to share opinions, and thoughts, and gain insight into others' perspectives. Investing in such events offers several benefits, including building new relationships and expanding your knowledge.
These are five types of networking events you can join or create based on your interests. If you're interested in organizing such an event, Alcor Prime can be the best vendor to work with. Before hosting these occasions, it's important to define the main purpose so that you can discuss it with the vendor.
Managing a networking event becomes less challenging when you understand the necessary steps. By collaborating with a reliable vendor, you can create an outstanding occasion that leaves a powerful impact on the audience.
Alcor Prime is ready to provide high-quality services for industrial events and more. Visit our website for a deeper understanding.